The Wild Adventure Island waterpark has several activities for guest to enjoy.
Our giant, interactive water feature includes gets, spraying water, slides and massive 350-gallon dumping water bucket.
For those looking for a slower pace, the lazy rivers is perfect to soak up some rays in the summer sun. Plus we have a small kiddie pool with a tiny froggy slide.
---
Lazy River
Take a relaxing lap on our lazy river. Grab a tube, enjoy the sun and slow pace in the curving, flowing water.
---
Wild Adventure Island
At the heart of the Wild Adventure Island is an interactive water feature. The structure has slides, spraying jets, water guns and a 350-gallon dump bucket. Hours of excitment can be enjoyed in the massive aquatic play area.
---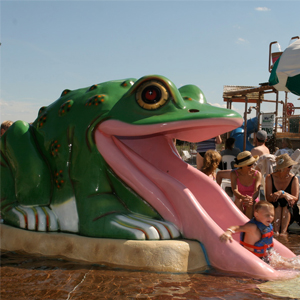 Kiddie Pool
Our smallest guests will love a dip in our kiddie pool. The water is roughly 6" deep and has spraying water and a froggy slide for young ones to explore.